The latest trend in fashion seems to be apologizing for your overtly racist design that you just didn't notice was racist af.  Sporting the trend this week is Burberry who sent this hoodie with a noose attached down the runway at London Fashion Week.
Hot on the heels of the Virginia Governer's moonwalking defense of the blackface pictures in his yearbook, Gucci showcased their blackface sweater just in time to contribute to one of shittiest Black History Months in recent memory.  Prada was an early adopter, releasing their blackface space monkey keychain last year.  They are also first to move to address the controversy that embroiled them, recently moving to create a diversity council to address internal issues of racism in the brand headed by the always justice minded Ava duVernay.  Let's hope the trend of a turn around catches on too.
What is it with these fashion brands–major design houses that have stood for decades, filtering the zeitgeist of a hundred year through their fabric?  Shouldn't they, the arbiters of the resonant images at any given moment, be most attuned to the long-standing tropes of anti-black racism?  Are their claims of ignorance and innocence to be taken at face value? When racism is top of mind, showing up everywhere in news, entertainment and even fashion with active discussions of cultural appropriation, that's hard to believe.  Times are changing and it's time fashion catches up.
My mother used to say that ignorance of the law is no defense.  Perhaps if this was 1619 when humans were trafficked to Jamestown, terrified to discover they were property in this strange land, then we might believe that the ideas and symbols that mark white supremacy had yet to take hold.   If it was 1719, before lynching became the terrorist weapon of choice in slavery and then during Jim Crow we could claim that the noose was a tool disconnected from ideas of race, and a sweatshirt had yet to mean anything; Maybe if this was 1819, when the Transatlantic slave trade had been outlawed, with European and American abolitionists pushing back against the continued expansion of colonial powers, and the rise of America's the minstrel shows still a few years away  we could believe they were unfamiliar with the significance of red lips in black skin.  But it's 2019.
It's 2019, seven years after Trayvon Martin was killed in cold blood by George Zimmerman and a jury of adults blamed a boy in a hoodie instead of a man with a gun.  There was lots of public debate about the lowly hoodie as gateway clothing to criminality: Geraldo Rivera said Trayvon Martin's hoodie was as much responsible for his death as George Zimmerman. one of a hundred talking heads debating whether a hoodie was probable cause for execution in urban areas.  Spoiler alert we decided it was.  Just two years after Trayvon Martin was killed, 21-year old Ricardo Sans was shot for wearing a hoodie and 'looking suspicious." Trayvon Martins hoodie stands as a powerful symbol of the complex and problematic demonization of black people in America.  It's hard to deny the contemporary power of the hoodie or the ubiquity of its representation in relation to race.
It's six years after the start of the Black Lives Matter movement when black people took to the streets to demand justice and then took to the voting booth, electing hundreds of people of color to local, state and federal office, passing laws to protect the rights of black people and to curtail extrajudicial police killing.
It's been five years since the fashion world acknowledged the shifting landscape of race.  As early as 2014 the conflict over racial violence was showing up on runways. Pieces like this protest sign inspired Chanel bag, or Pyer Moss's in your face runway show were all over the Spring shows. Other brands incorporated the signs of BLM resistance into their work, inspiring trends, slogans on shirts, and whole collections and emerging fashion movements that appropriate ever-evolving black style.
It's been four years since the start of #Oscars so White,  a soul-cry calling for more- and more accurate representation of people of color in the entertainment industry.  It's been four years of some of the best movies and TV shows made for and by black people, from Get Out to Moonlight. In the last year alone we've been treated to Black Panther and Wrinkle In Time, Blackklansman,  Widows and on the small screen Queen Sugar, Atlanta, Blackish, Insecure, Dear White People, The Chi, and a dozen other shows. Black artists filmmakers and writers are reshaping the image of Blackness in a glorious renaissance.  There is plenty to inspire designers far removed from the boring tropes of the past four hundred years.
It is a year after the Equal Justice Institute opened The Legacy Museum and the National Memorial to Peace and Justice, commemorating America's history lynching.  There have been no less than 175,000 news articles about lynching in the last year alone, not including articles about three different actual lynchings of black people perpetrated in 2018.
Its been long enough for major brands to get staff, training, and resources to make sure they understand how to navigate the shifting culture their artistry seeks to affect and reflect.
While brands are quick to apologize, and some like Prada are putting resources to moving their understanding forward, brands watch from the sideline don't have to take these hits.  Companies of all sizes and industries need to do their work to find the intersections between their work and an increasingly diverse world. For content creators that means familiarizing yourself and your team with racist tropes.  The good news is that this information is not hidden for those that seek it.  Cultural critics (like me!) been writing and teaching about racist images for many years.  Informing yourself is one part history, one part media literacy and one part acting like a frigging human.  If you are ready to go beyond googling "racism", here are some tips for keeping your fashion house on the right side of racial justice.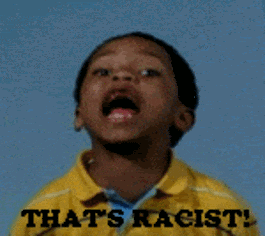 Get that it matters. The time has come to stop using racist imagery. It's not clear from what we know that all of these fashion accidents are truly accidents.  The most generous read assumes that people just didn't know, and frankly, in this day and age that is pretty hard to swallow.  For the designers who try to subtly slip less-than-political-correct imagery into their content, a warning: the cost for cheeky racism is steep.  After the row over H & M's King of the jungle shirt, the company stock dropped 62% in one quarter. Boycotts are common and effective in the age of social media, not to mention the canceling power of Black Twitter is best avoided if you want your brand to flourish.  If someone on your content team thinks a subtle nod to racist tropes is edgy and will help drive traffic, its time to either drop a dime to management or dump your stock options before the boycotts start.
Know your history. Racist stereotypes develop in cultural context, reflecting the ideas and values of their place and time.  Understanding where racist stereotypes come from and how those stereotypes supported the oppression of marginalized people can help you better understand why it's totally not cool to use imagery like blackface or nooses in your fashion.  Stereotypes are not constructed from real common characteristics of a group of people so much as they are made of the mainstream's beliefs about a group, a collage of assumptions and projections, not facts, that help to support the narrative that those in power want to thrive.  Blackface is a set of visual codes–black skin, red lips, wide eyes–and each part of that code was designed to communicate the marginalization and dehumanization of black people.
Understand how stereotypes function. Stereotypes are shorthand codes that communicate not only identity but also ideology.  You cannot separate the negative ideology that is the flesh beneath the stereotype's skin. Stereotypes teach us what people deserve, and racist stereotypes effectively communicate that racial hierarchies reflect natural truths, ensuring their enduring power to define and oppress minorities. The ignorance and animalism encoded in blackface cannot be separated out from those codes.  Even if in the course of artistic examination an artist is inclined to use these images to challenge the conventions of the code, the audience is unlikely to be able to receive the code in this new way without being primed or prepared in advance to see something other than what they have always seen.   A powerful example of the enduring nature of stereotypes happened with a Swedish artist commissioned to make a provocative piece of art for a show about provocative art created a work he called Ni***r Cake, an interactive blackface cake to draw attention to female genital mutilation in recent African immigrant populations in Sweden.  At the reception, the sobering and difficult recasting of blackface was lost on the laughing Cultural minister and guests in the image below that went viral, resulting in widespread criticism of the artist and the firing of the cultural minister.  Individual design decisions are not enough to reshape the powerful coded communication of stereotypes.
Hire diverse teams. A lack of diversity in the room can lead to bad decisions, as we have seen over and over again.  Each of us has our own filter and our own blind spots.  Having a diverse team ensures a wider perspective, allowing your team a broader filter for capturing problematic content.    Hiring diverse creative talent is one way to ensure that the right ideas get through and the wrong ones get caught early on.  Diverse teams mean more than having an intern pipeline, it means diversity up and down the org chart. Hiring diverse teams at all layers of an organization creates a stronger network of fail-safes, and empowers members of your team to speak up.  This is a must–you cannot accurately and authentically represent a population without having that perspective represented in a strong way in your team and throughout your process.  And if you don't want to reflect and connect with racially diverse populations you are shutting out a growing 40% of the American population who identifies as a minority.
Diversity is not inclusion (and you need both).  Diversity is the mix in the room and inclusion is getting everybody active in achieving and maintaining a healthy equitable culture. You cannot hire your way to an inclusive organization without providing the training and resources to make sure all of your employees are responsible for maintaining inclusivity.  Put plainly–the white people in your company need to be as responsible for creating an inclusive environment as the employees of color.   Organizations often hire people of different races thinking their mere presence will change the ideas and thinking of other people in the room, and usually without any extra compensation for the task.  This is a set up for people of color brought into culturally ignorant organizations and prevents employees less comfortable with race from growing the skills they will need to stay relevant in an increasingly diverse environment. Instead, organizations need to provide training, coaching, and resources to support teams in doing their part to make sure every member of your organization represents your values around inclusion.
The truth is culture is complex, more so now than at any point in the last 50 years. The stakes are higher for brands who have to work hard to connect in our cluttered media environment, and the costs are steep for companies that refuse to acknowledge consumers' increasing desire for culturally competent companies.  But the days of disregarding people of color, claiming ignorance and laughing at white supremacy's lame jokes are gone. I hereby declare the moment for mea culpas over.  No more oh-so-sorry apologies for overt racism a simple google search could have averted.  Fashion brands, do you work to wake up or bear the righteous wrath of the Twitter police and the pain of the boycotts that follow.