Social media–we love it, we live on it, we can't do without it. With tweets clocking in under 140 characters, Twitter is the quickest high out there, with regular users sending dozens of tweets daily. But like all fun things, you really have to have some limits. Too much ice cream? Diarrhea. Too much tweeting? Same result. So even the most "expert" tweeter in chief should remember when not to tweet. Here are four tips for anybody, really, but especially anybody ruining this country with his tweets:
In the Midst of Tragedy
When crisis strikes in our too fragile world, Twitter can be an important tool to get out information quickly, check in to find people in harm's way and to offer prayer and solidarity to bolster hearts and minds in the moments after a catastrophe. Tweeting in these times requires all the gravitas and sensitivity you can muster–to tweet otherwise can be disastrous for careers and reputations (of nations, even). This is not the moment to drop a flaming tweet to stir people up. That is irresponsible and uncaring, showing your weakness as a leader.
Protip: be like Obama–he knew how to send a tweet that calmed and uplifted in dark times. Bonus protip: that's what leaders are supposed to do.
Late at night
Bae acting up and you can't sleep, all in your feelings? Do not tweet about them. You are vulnerable. It's dark out. Maybe you're listening to Lil Uzi Vert walking around the White House in your bathrobe alone with only your wounds and some ice cream. Do not pour out your pain on Twitter. Some pain is supposed to be private, some anger is not righteous and only reveals the small minded self-pity that humans tend to in these late nights weeping sessions.
Protip: Put the phone–and the ice cream–away and go the fuck to bed. Better yet, leave your phone at the office and switch up your playlist until you can be trusted after hours.
When you don't know what you're talking about
Look, if you tweet some ignorant shit, you most definitely will be in good company–a solid portion of tweets are ignorant, tweeted by people who are beyond ignorant. Some make a living at it. There are even robotweeters programmed to tweet out ignorant shit all day long. But, as your mom used to always say, just because all your friends are destroying the internet with a bunch of fuckery and false facts that doesn't mean you have to, too. In fact, if you are a professional of any kind—any kind, Don–you recognize your Twitter feed as an extension of your professional reputation. Tweet stupid, look stupid.
Protip: If you're about to tweet, run a quick fact check, just a little google action. Level up–Breitbart, Info Wars and Fox Commentary are not independent fact checkers. Please do better.
When your friends and family (and country) are concerned
We have friends and family so someone will tell us the truth when we get out of line. Unlike vodka bottles under the couch or pill bottles hidden in a purse, your Twitter habit is out there for all to see. I mean everyone can see you up saying crazy talk late at night (and can totally picture aforementioned bathrobe and ice cream). We noticed that you have to tweet foolishness just to get out of bed in the morning. Even when you're away on a great trip you can't help tweeting bullshit. Everyone knows your tweeting is out of control. You doubling down and saying tweeting is cool because all your friends like it when you tweet just sounds like the last defense before they load you onto a plane for rehab. When Kellyanne Conway, whose tie to reality is tenuous at best, tells you to chill, chill. But when her husband has to get in on it along with all your advisors and a few friends? Time to put the phone down. Don't listen to Don Jr. He's enabling.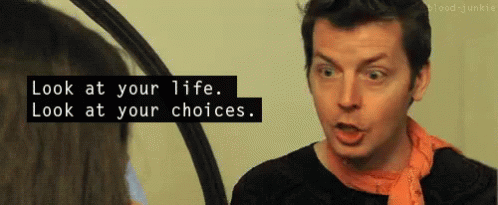 Protip: Listen to the people that care about. The love you like crazy and they feel like they're losing you. The rest of us hear your cry for help and a good 65% percent support you packing up today and going away till you–and this country–recover.
There you have it: four good times not to tweet, whether you're a Twitter newbie, or whether you are the leader of the free world President of the United States and should be running the country and fighting your impending impeachment instead of tweeting like a petulant teenager. Now go tweet responsibly, or, maybe, 45, not at all!